DOG GROOMING
PAMPER YOUR POOCH
Our grooming salon features state of the art equipment and all-natural shampoos and conditioners. Our friendly and experienced staff will work with you to determine the best look for your pet by talking to you before the appointment and after to make sure you are completely satisfied.
We offer two grooming options. Bath & Tidy to keep your pet smelling and feeling great between full grooming and our Full Groom service for the ultimate Bark & Purr experience.​
*Our Full Groom service is breed specific and priced according to breed type and condition of the coat. Our professional groomers will evaluate each dog upon arrival.*
​We also offer specialized spa packages using Espree products. These spa packages are for the next level in pampering for your best friends.
NOW PROVIDING PICK UP/DROP OFF SERVICES FOR GROOMING STARTING AT JUST $5!
Panel only seen by widget owner
---
ESPREE SPA PACKAGES
*THESE PRICES ARE IN ADD-ON PACKAGES FOR BATH & TIDY SERVICES.*
---
Dog Grooming A La Carte Options and Additional Fees
De-Shedding: Dogs under 25 lbs: $35, Dogs Over 25 lbs: $75 (Furminator) de-shedding comb through + shampoo & conditioner. ​​
Nail clipping $15
De-Matting Fee: $7-$30
Ear Cleaning $15 Check, clean, deoxidize, trim/pluck the hair from your pet's ears.
Teeth brushing $15
Face trim $15
Pad cleaning & balm $15.
Anal expression $15​
Nail Polish Small Dog $6
Nail Polish Large Dogs over 12lbs $10
Earring and Jewelry: $5, per body party (i.e: Earrings-$5, Neck Jewelry $5, etc)
Specialized Bows and Bandannas: $1 (these are fancy styled bows and neck wear that can be chosen by the parents)
Dye/Color *Starting at $25. Dyes come in a variety of colors such as Wicked Red, Tuxedo Black, Screaming Pink, Midnight Blue etc. All dyes are completely non-toxic and semi-permanent. Coloring results vary with coat type and breed. Pricing varies dependent on the dye job.
*ALL vaccinations must be current. We are by appointment ONLY and require that a 50% deposit be applied toward your services. All matted dogs are subject to a matting fee. All services are subject to NY sales tax.*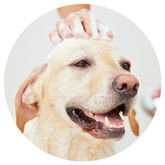 Thera-Clean®
Shampoo therapy is necessary for pets with dermatologic ailments. A pet's coat operates like a magnet for all types of dirt, dander, toxins, fungus, bacterias, and irritants. To receive the optimum benefit from therapeutic shampoos, topical contact time during the course of application is very important. Allowing the shampoo to sit on the skin allows it to get in the skin to provide soothing moisture. Another important step of using dog shampoos is rinsing because surfactants can produce skin irritation when they are not totally removed. Therapeutic shampoo will leave your dog' skin healthy, smooth, pliable, shiny, and manageable.

Teeth Brushing
Protect against bad breath, tooth loss, and gum disease with regular teeth cleaning for a healthy smile.

Sanitary Trim
For long hair doggies, sanitary hair cutting may be needed to cut long fur from around the bum.

Nail Trim
We cut nails to a prudent length, just short of the toenail quick. Nail trimming prevents painful nail cracking or nails breaking.

Haircut
We provide breed-specific haircuts. Cuts feature shampoo, dry, and hair trimmed on their head, paws, and bum.

Full-Service Grooming
Your pet is going to be given a bath, clipped, combed, and beautiful head to toe.

Face Trim
Several pooches need a haircut from around their face. Our groomer will be able to help you identify the perfect style for your dog.

Ear Cleaning
A dog's ears are delicate and vulnerable to infection, excessive wax buildup, and ear mites. Cleaning your pet's ears reduces build-up to help hinder infections and reduce the smell.

Bath & Brush
Our bath service includes shampoo matched for your pets' coat type, leave in conditioner, brush out, nail trimming and filing, and ear cleansing.

Anal Gland Expression
Anal gland expression can help hinder symptoms connected with anal gland irritation. Glands can become infected if liquids are not drained naturally.
Come visit our pet supply store in Yonkers, NY specializing in quality food, treats, and supplies for cats and dogs.